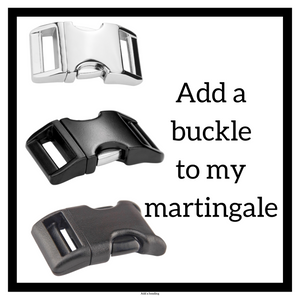 Add a buckle to your martingale collar
-----------------------------------------------------

Make it easier to put on and take off your dog's martingale collar!

Available options:
1" Silver tone aluminum buckle
1" Black aluminum buckle
1" Rose gold aluminum buckle
1" Black Plastic buckle
1.5" Black Plastic buckle (not available for XS sized collars) 
2" Black Plastic buckle (not available for XS sized collars) 
NOTE: XS 1.5" + 2" martingales are not eligible for buckle additions as the size of the buckle is not conducive to the required measurements of the collar and WILL affect the fit. These order combinations will be cancelled as they cannot be completed as ordered. 
A NOTE ABOUT BUCKLES + MARTINGALES: Because martingales are often used as training collars and for dogs that pull, it is NOT RECOMMENDED that you add a buckle to a martingale for a dog who is a heavy puller as it becomes a potential failure point. Although buckles on this site are manufactured for the purpose of being used for dog collars, every buckle has a break load. You can read more about our break load on our FAQ page.  Dogs who are heavy pullers should be fitted with a standard martingale.

When making the martingale to an easy on/ off martingale an additional connector piece will be added to connect the control loop to the main body of the martingale.