Collars are made to order unless otherwise stated and can have a turn around time of up to 2-3 weeks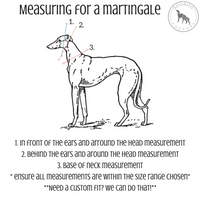 How does your martingale measure up?
Measuring your dog correctly is for a martingale is the best way to ensure you're getting the most out of their new favourite accessory. 
Follow the measurement guide to help ensure the ideal fit, safety and control while using a martingale. 
If your dog is between sizes please contact me and I will be sure to work with you to get the best fit.